Our Story
The What, Why and How of Harten Frameworks Ltd
What We Do
We Present and Protect Your Art with Custom Designed Frames.
Our workshop team create hand finished box and tray frames in woods, metals, and colour-enhancing acrylic.
Why Us?
What Makes Harten Frameworks Different?
We are passionate about our work
We are a small highly skilled team with complementary talents. We love the work we do & like making clients happy. Our framers have decades of experience of art presentation so know how to approach your project.
Details matter to us
It's the little things that matter. From perfectly aligned backboards and tape to tight frame corners, intelligent design and conservation materials.
World class systems
We have strong custom built systems to ensure the work is tracked from first contact to project completion. At all stages your artwork is safe with us – our workshop is secure, alarmed & insured by Lloyd's of London.
Oversized specialists
We can undertake any size of project – our space is designed for the largest art pieces, including our custom spray booth for the clean gallery look.
The Team
How We Got Here & Our Team
Harten Frameworks is a 3rd generation family business doing quality framing since 1974. Right back at the beginning of our story – Simon's Dad started the company selling framed silk-screen prints to Selfridge's in London.
In 2008 Simon and Frances took over the company and turned it Limited. Following the successful completion of the Goldman Sachs 10,000 Small Businesses course, with help from our business coach, our client segments were defined - we work for Professional Artists, Galleries, and Interior Designers. Supported by an MBA at Manchester Metropolitan University completed by Frances in 2022, the company experimented with creating Departments to increase the capability, and increase the number of team members.
We now have departments in Woodwork, Metalwork, Acrylics, Artwork Preparation and Fit-up with passionate individuals to run them. In 2021 & 2022 we took on additional workshop space to accommodate our growing team and production, and fast-developed the workshop to better implement our processes and products. In 2023 we honed our processes and workshops to improve our workflow.
And the story continues ...
Frances

Managing Director

Frances left a Senior Graphics Lecturer role in 2012 to work full time in the company as Managing Director. She took the company through the rigorous 10KSB programme, and since then the company has grown by an average of 20% each year. She is fiercely protective of the team and the company as a whole, and knows she still has much to learn. She approaches everything with optimism and problem solving skills, enjoys coming up with pie-in-the-sky ideas, and plans A-C to make sure we get where we're going. She completed an MBA Apprenticeship in 2022.

Simon

Metalwork & Acrylics Departments

Simon joined the company aged 22 after a travel gap year, to help out & pay a favour back to his Dad, who originally set up the company as a sole trader in 1974. Simon never left, and in 2008 turned the company Ltd, 50-50 owned with Frances. He is skilled at all the production roles in the company, having developed them himself when the company was smaller. He is now working towards handing these skills over to each department - after all, he is only one man! His absolute value is in researching, trialling and defining the processes and improvements for our products, investigating new products, and leading on the glorious and unusual project jobs that come our way. It is phenomenal to have this type of big 'can-do' character in a small framing company, and it is what has enabled our agility to weather these volatile times. Simon is currently managing the Metalwork and Acrylics Departments.

Jake is astounding as a Sales Manager - he takes his role seriously and is fully on the side of the client. He has a calm and intelligent approach beyond his years, and does everything he can to make the client's experience as great as possible. He joined us at the height of the pandemic with an apprenticeship in Digital Marketing - but quickly took to Sales like a duck to water as his preferred subject. At his interview, we were recruiting to our values and were trying to fluster him to quickly reveal who he really was, but he was consistently calm and unflappable. In desperation, one of the team started to sing to him - something like 'love is in the air' - Jake calmly responded when the song was done "does that mean you like me and I'm hired?"

Jonny

Artwork Preparation & Fit-up Departments

Jonny joined us in January 2022 from a Senior Art Lecturer role at Macclesfield College. He is passionate about art, a natural considering he's a practising artist, and he's an effective organiser. He has made a quick transition from the lecturing world to our Framing Workshop world and is a big hit with the team for his optimism and no-nonsense approach.

Anton

Woodwork Department

Anton is a time-served joiner with great organisation skills. He has jumped sideways to work with us for a new challenge, and we also have the additional joinery skills to help us adapt the working space we have - win-win!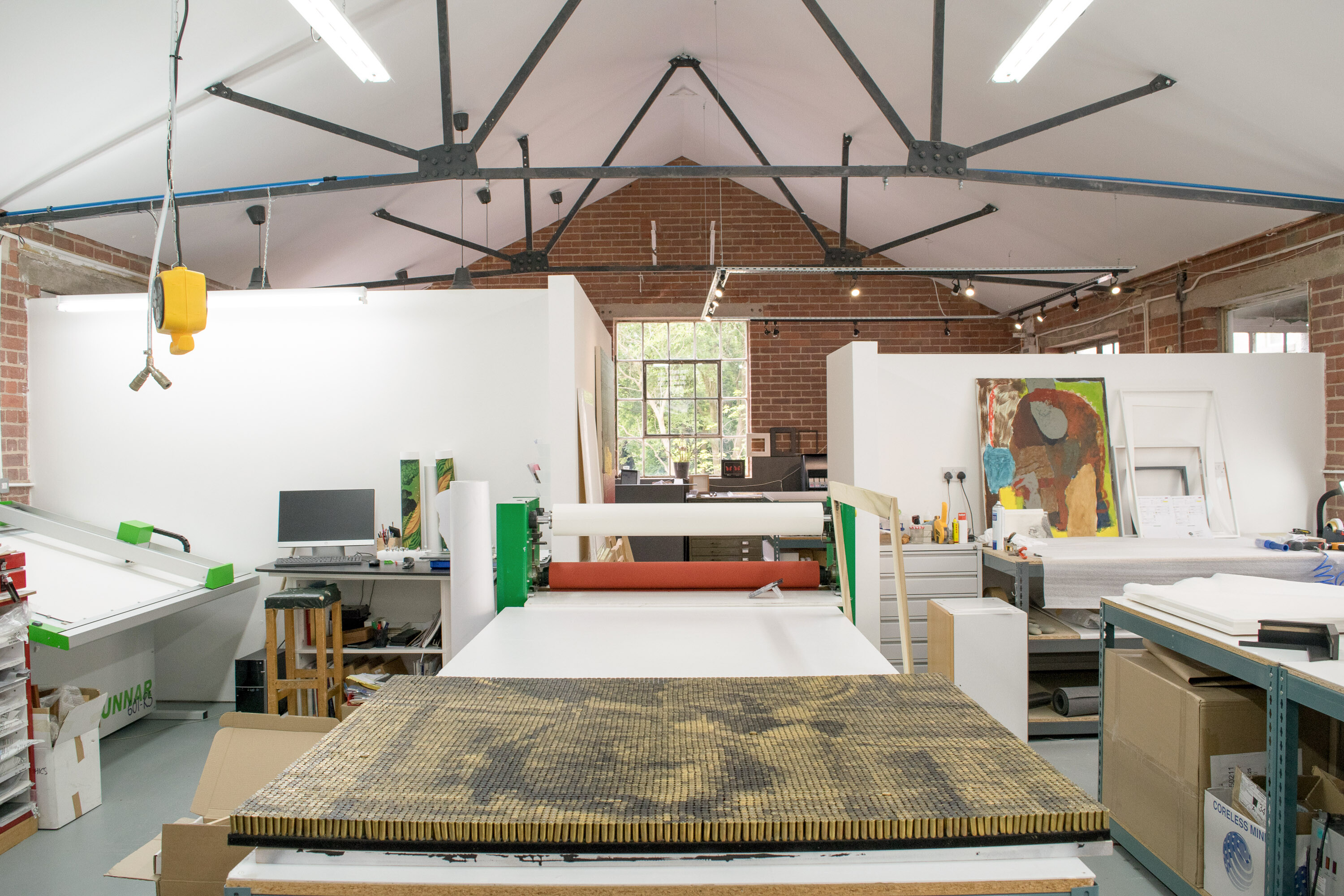 HQ
The Workshop
Where the magic happens
Our 4200 sq ft workshop at the Adelphi Mill in Bollington, Cheshire, is the perfect creative environment. We've invested in technology, equipment & systems for each zoned area to ensure we can handle anything you throw at us, in any size. Here are some highlights:
Series of workshop departments – The perfect scenario for dealing with very large artwork

Acrylics Department - complete with 2m tilting table for edge-bonding large acrylic boxes, and a diamond polisher

Woodwork Department - 1000 sq ft of glorious space & kit for making beautiful frames

Metalwork Department - our newest department - just being kitted out

Spray booth – Gallery perfect spray finishes give a clean, modern look with no corner joins

Zoned Clean Areas – Artwork is handled in special zones to ensure it's free from dust etc.

Compressor – Supplies compressed air to power tools and ensures artwork is free of dust before framing. Our high-end system provides clean air, triple filtered. Other systems can leave water droplets and oils on artwork.

Gunnar – Professional computerised mount cutter to ensure every mount is accurate to 0.1mm

Large format printer – The 60 inch HP Z6200 can print images at 150cm wide on quality paper or canvas.

Long edge cutter – For perfect cuts to trim huge prints
Our workshop is based at the Adelphi Mill in Bollington, Cheshire.
We look forward to seeing you there soon!